CATEGORY: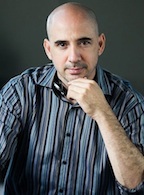 Rob Carlos
keynote speaker
Leader of the innovation movement in Mexico, Creator of Factor WOW, the innovation methodology that is changing the way business are done in Mexico. Author of 5 books, Factor WOW and 75WOW
TOPICS
Branding
Creativity
Innovation
Marketing 360°
ABOUT SPEAKER
Through the experience of 10 years as CEO of Kakumen, one of the leading branding and marketing companies in Monterrey, Mexico, Rob Carlos (RöC) has attained thousands "flight hours" in delivering extraordinary experiences to customers.
All this experience was poured in Factor WOW, a book that has changed the way many persons and companies perceiveBranding innovation in Mexico.
Factor WOW's book, speaking and consulting has been present in the main universities and commerce chambers in Mexico.
For 10 years Rob was the technology cartoonist at Ref.
---
---
CONTACT US
To enquire about a particular speaker(s) for your event please fill in the form below and we will get back to you immediately.