CATEGORY: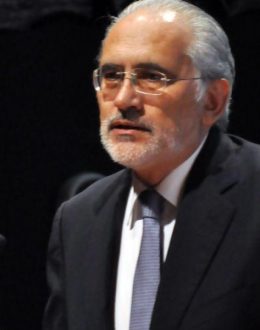 Carlos Mesa
keynote speaker
Former President of Bolivia
TOPICS
Democration
History of Cinema
Leadership
Nationalisation
ABOUT SPEAKER
Mr Mesa came to power in October 2003, after weeks of deadly protests saw his predecessor Gonzalo Sanchez de Lozada out of office and into exile.
In his acceptance speech, he accepted that Bolivia was not yet "a country of equals" and that the country's handling of the controversy over its huge natural gas resources would be "a decisive factor in our domestic development and our relations with the world".
Little did Mr Mesa know almost every day of his tenure would be marked by protest, and that the fate of the gas would plunge his country – and his leadership – into paralysis.
Carlos Mesa Gisbert was born in Bolivia's main city, La Paz, on 12 August 1953, to art-historian parents. He studied literature in Madrid and La Paz before becoming a historian of Bolivian cinema. Later, he turned to journalism, first as a news commentator on the radio and later as a television presenter. In the following years, he set up a television news production company, PAT, which he transformed into a national network. He became one of the country's best-known TV personalities, making millions in the process.
Mr Mesa, now married with two children, entered politics as an independent candidate in 2002, winning the vice-presidency as Mr Sanchez de Lozada took the presidency.
It was not long before protests against the government have begun, sparked in February 2003 when it proposed imposing an income tax.
Then in September, government proposals to export the country's natural gas to the US through Chile – Bolivia's enemy since it won Bolivian territory in a war more than a century before – triggered more violent protests. Up to 80 people are believed to have died, mainly in the impoverished town of El Alto, as the government suppressed the protests. But Mr Mesa became increasingly unhappy with the government's handling of the unrest. He withdrew his support from the leadership, and once Mr Sanchez de Lozada had resigned and fled to the US, Mr Mesa took his place.
One of his first acts was to respond to indigenous demands for greater representation. He created a new cabinet position that of minister for indigenous and ethnic people, and appointed an Indian from eastern Bolivia to the post.
Given his political inexperience, few commentators thought Mr Mesa would survive – and at first he proved them wrong.
In June 2004, he won overwhelming backing in a referendum on the future of the country's huge gas resources, which sought to steer a path between popular demands for a greater share of the gas profits and foreign companies' terms for their help extracting the gas. But it was not long before radical leaders were taking to the streets again, many unsatisfied with the terms of the new "hydrocarbons" law.
Amid waves of protest, in March 2003 an exasperated Mr Mesa for the first time announced his resignation, saying protests had left the country ungovernable and he had "reached a limit".
But Mr Mesa still recorded a significant level of support. His announcement prompted demonstrations of support and a day later Congress rejected his resignation. His first resignation was initially seen as a successful gambit to rally the populace behind his leadership, but within days the protesters were back, demanding nationalisation of the gas – something Mr Mesa has said would be unworkable.
On 6 June 2005, Mr Mesa again submitted his resignation – though there was no clear successor to the man who at one time, remarkably, commanded the simultaneous support of Washington and the Movement to Socialism party led by coca farmer Evo Morales.
He was the founder and director of the Bolivian cinema (1976) of which he is a trustee member. Since 1979 Mesa is a press, radio and television journalist. He was deputy director of the newspaper Ultima Hora and director of three TV channels, America TV, Telesistema Boliviano and ATB (1985-1990).  Mesa was director of the talk show "Close Up" for nineteen years, founder and director (1990-2002 and 2005-2007) Associate Television Journalists (PAT), producer (1990-1998) and television network (since 1998).
He is president of the Community Foundation (since its inception in 2007), whose job is to help strengthen democratic institutions.
Author of sixteen books, including: Presidents of Bolivia: Among Urns and rifles, The Adventure of the Bolivian Cinema, History of Bolivia, President Besieged, and La Sirena and the charango, Essay on Mestizaje.  Mesa made more than a hundred documentary videos with Mario Espinoza and Ximena Valdivia.
In 2012 he received the National Journalism Award of Bolivia. Mesa is a member of the Bolivian Academy of History and the Bolivian Society of History.
---
---
CONTACT US
To enquire about a particular speaker(s) for your event please fill in the form below and we will get back to you immediately.