CATEGORY: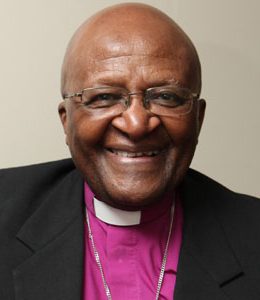 Desmond Tutu
keynote speaker
1984 Nobel Peace Prize Winner
TOPICS
Human Rights
Racism
Social Rights
ABOUT SPEAKER
Bishop Desmond Tutu (born in 1931 in Klerksdorp, Transvaal) is a South African social rights activist and retired Anglican bishop who rose to worldwide fame during the 1980s as an opponent of apartheid. He was the first black Archbishop of Cape Town and bishop of the Church of the Province of Southern Africa (now the Anglican Church of Southern Africa).
Since the demise of apartheid he has been active in the defence of human rights and uses his high profile to campaign for the oppressed. He has campaigned to fight HIV/AIDS, tuberculosis, poverty, racism, sexism, the imprisonment of Chelsea Manning, homophobia and transphobia. He received the Nobel Peace Prize in 1984; the Albert Schweitzer Prize for Humanitarianism in 1986; the Pacem in Terris Award in 1987; the Sydney Peace Prize in 1999; the Gandhi Peace Prize in 2007; and the Presidential Medal of Freedom in 2009. He has also compiled several books of his speeches and sayings.
Tutu is an honorary doctor of a number of leading universities in the USA, Britain and Germany.
Desmond Tutu has formulated his objective as "a democratic and just society without racial divisions", and has set forward the following points as minimum demands:
-Equal civil rights for all
-The abolition of South Africa's passport laws
-A common system of education
-The cessation of forced deportation from South Africa to the so-called "homelands"
Tutu currently serves as the honorary chair of the Association of European Parliamentarians with Africa's Eminent Advisory Board.
---
---
CONTACT US
To enquire about a particular speaker(s) for your event please fill in the form below and we will get back to you immediately.