CATEGORY: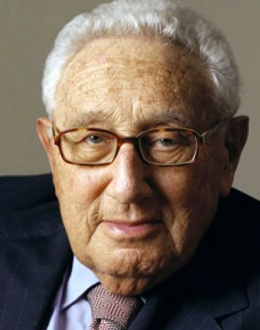 Henry Kissinger
keynote speaker
Former U.S. Secretary of State
TOPICS
Global Affairs
The Art of Diplomacy
U.S. Foreign Policy
World and US Politics
ABOUT SPEAKER
Before Henry Alfred Kissinger became the 56th Secretary of State of the United States, he received an A.B. degree summa cum laude in political science at Harvard College in 1950. Later on, he also obtained a M.A. and Ph.D. at the same institution. After his education, he remained at Harvard as a faculty member where he gleaned essential skills for his future position from experience with groups such as the National Security Council Operations Coordinating Board and directing studies on Foreign Policy at the Council of Foreign Relations.
Before his entry into American politics he consulted with the Government for the Operations Research Office, the Arms Control and Disarmament Agency and the Department of State. It was his support of the unsuccessful Nelson Rockefeller's nominations for president that brought him into the light of the Whitehouse.
It was Richard Nixon who gave Kissinger his first post in politics when he was made National Security Advisor in 1968. It was here he faced his most notable battle; the Vietnam War. He worked to improve the American bargaining position by organising to withdraw troops and a bombing campaign on North Vietnam to maintain U.S credibility with international allies and enemies. At the start of 1973 Kissinger coordinated an agreement with Le Duc Tho to sign a ceasefire agreement and end American involvement in the war. Both men were then honoured with a Nobel Peace Prize for their efforts, however Duc declined the offer. During his time as National Security Advisor Mr. Kissinger secretly visited the People's Republic of China which paved the way for Nixon's historical visit, he negotiated the Strategic Arms Limitations Treaty (SALT I) and the Anti-Ballistic Missile Treaty, easing tension between the two cold-war superpowers.
After this first appointment Kissinger made his mark on the U.S. political arena as Secretary of State from 1973-1977. It was during this time that he showcased his determination, influence and controversial manner. He stepped down from this position at the end of the Ford Administration in 1977.
Kissinger decided to embark upon his own business aspirations and he founded an international consulting firm "Kissinger Associates" in 1982. He still works with the firm today, offering support and insight into current political rhetoric and policy. Through the firm's relationships he also serves on any number of boards and works as trustee to numerous companies and foundations.
In 1983 Ronald Reagan appointed him to chair the National Bipartisan Commission in Central America. He continued this position through to the Bush administration and during his time he served on the President's Foreign Intelligence Advisory Board and authored several books and articles on American foreign policy and diplomatic history.
Many political analysts attribute the current international order to Kissinger's intellectual prowess and powerful policy making skills. Kissinger has noted himself that he had a "chance to shape events, to build a new world, harness(ing) the energy and dreams of the American people and mankind's hopes".
Accomplishments:
– Nobel Peace Prize 1973
– Honorary member of the Harlem Globetrotters in 1976
– Presidential Medal of Freedom by Gerald Ford in 1977
– National Book Award in History for his memoirs "The White House Years" in 1980
– Honorary Knight Commander of the Order of the British Empire in 1995
– Sylvanus Thayer Award at USA Military Academy in 2000
– Gold Medal at Queen Sofia Spanish Institute in 2005
– Woodrow Wilson Award for Public Service, 2006
– Hopkins-Nanjing Award, 2007
– First annual Ewald von Kleist Award of the Munich Conference on Security Policy,
– honoured by the American Council on Germany with a McCloy Lifetime Achievement Award, 2011
– President's Medal, the highest award of the State of Israel in 2012
– Henry A. Grunwald Award for Public Service by Lighthouse International,  2013
---
---
CONTACT US
To enquire about a particular speaker(s) for your event please fill in the form below and we will get back to you immediately.