CATEGORY: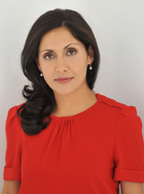 Maryam Moshiri
keynote speaker
TOPICS
Current Affairs
Global Affairs
Moderating
ABOUT SPEAKER
Maryam Moshiri is one of the faces of national and global business news on the BBC. She has reported and presented on some of the biggest events in the financial and business world over the past ten years, from the economic impact of the 9/11 attacks to the more recent global financial crisis. Maryam was on live on air when the BBC broke the Lloyds/HBOS merger and has reported on, and takes a keen interest in, the growth of China and India as world economic powers. Over the years Maryam has interviewed some of the world's top economists, investors and FTSE 100 bosses, including Sir Richard Branson, Willie Walsh and Jeff Bezos.
Maryam is a regular anchor on BBC World, which is viewed by millions of people worldwide – she was presenting during the fall of Tripoli, Tunisian uprising in 2011 and conflicts ranging from the DRC to Ukraine. She has also presented national 60 second news updates on BBC1, contributed to Radio 4's Today programme and worked as a roving Business Correspondent for the BBC's flagship Breakfast programme. She has also spent a substantial amount of time reporting from the Central African Republic.
Maryam is Iranian born, though she has lived in Britain since the age of one. She speaks fluent Italian, Farsi and good French. Maryam holds a Master's degree in Broadcast Journalism from the London College of Communication and has a BA Honours degree from University College London.
---
---
CONTACT US
To enquire about a particular speaker(s) for your event please fill in the form below and we will get back to you immediately.