CATEGORY: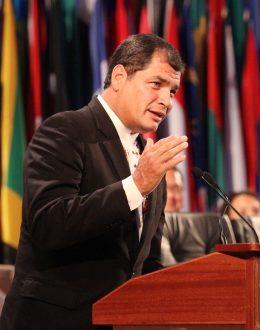 Rafael Correa
keynote speaker
President of Ecuador (2007 – 2017)
TOPICS
Geopolitics
International Development
Latin America: Economic Prospects and Policies
Latin American Politics and Foreign Affairs
The Changing Dynamic of Latin America
ABOUT SPEAKER
Dr. Rafael Correa has passionately pursued equality, human rights, and social justice throughout his career and led Ecuador through one of the most dramatictransformations in the history of Latin America.
Born into a lower-middle class family in Guayaquil in 1963, Dr. Correa's early life was not an easy one: living in a "bad part of town," with a father who was absent, Rafael decided to "break-the-cycle" and spend his life pursuing a goal of giving all of his fellow citizens real opportunities for a better future – one without crime and violence, which was driven by Ecuador's profound poverty.
In 2007, when Rafael Correa became President, Ecuador had one of the highest levels of social inequality (by GINI Index) in Latin America, a shockinglylow GDP ($46.8billion), and the country often suffered electrical blackoutsand substandard infrastructure. During Dr. Correa's two terms in office, Ecuador was theLatin American champion in reducing poverty and inequalitydue to the innovative reforms he designed and implemented. Thanks to these novelapproaches, overhis ten years in office, over two-millionsof citizens were lifted out of poverty, the GDP reached$104 billion, internet penetration is one of the highest in the region and the infrastructure is now among the best in South America. Not only is Ecuador not facing black-outs, instead Ecuador today is aregional exporter of energy.
In addition to hissuccessful Presidency, Dr. Correa served was appointed as the Minister of Finance (2005); the President Pro Temporeof South American Cations Coalition (UNASUR) (2009-2010); the President Pro Tempore Community of Latin American and Caribbean States (CELAC)(2009 – 2010);and was the President of his political party, AllianzaPAIS, for 11 years(2006– 2017): Where he led his Party to winevery national election for ten years straight. In fact, Pres. Correa's approval rating as President was not only the highest in all of the Americas, it was one of the top-three highest in the worldfor years: Having peaked at 83% and stabilized to amulti-year average of about70%;never having descended lower than 58%. One of the winningest politicians in the world, he has never lost an election in which he stood for office.
Thanks to a number of competitive scholarships, Dr. Correa was able to pursue higher education and achieveda Bachelor's degree (Catholic University of Guayaquil, Ecuador), two Master's degrees (Catholic University of Louvain, Belgium and University of IllinoisUrbana-Champaign, USA), and a PhD (University of IllinoisChampaign-Urbana, USA), all in economics, with specialization in Economic Development, International Monetary Theory, and Public Finance. Pres. Correataught economics at universities in Ecuador where he published a number of scientific articles and original research. He has been awarded 18honorary doctorates.
Pres. Correa's charismatic public speaking style has always contributed to his broad popularity and thus in his post-presidency he hosted an international television show,interviewing global political leaders, famed intellectuals, and other people playing a role in the global political discourse of the 21st century. He continues to be an active writer, currently completing a new book about developing economies, and his earlier books are still in-print and can be found in translation in numerous foreign languages.
Dr. Correa is fluent in English, Spanish, and French. He also is a beginner-level Kichwa-speaker thanks to the year he spent asa volunteer with the (Roman Catholic) Salesian Fathers in Zumahua, Ecuador, designing, implementing, and controlling rural develop projects for the indigenous population there.He is married and has three grown children. They reside in his wife's native Belgium.
---
---
CONTACT US
To enquire about a particular speaker(s) for your event please fill in the form below and we will get back to you immediately.