Ignite Innovation with Ed Newton-Rex as Your Keynote Speaker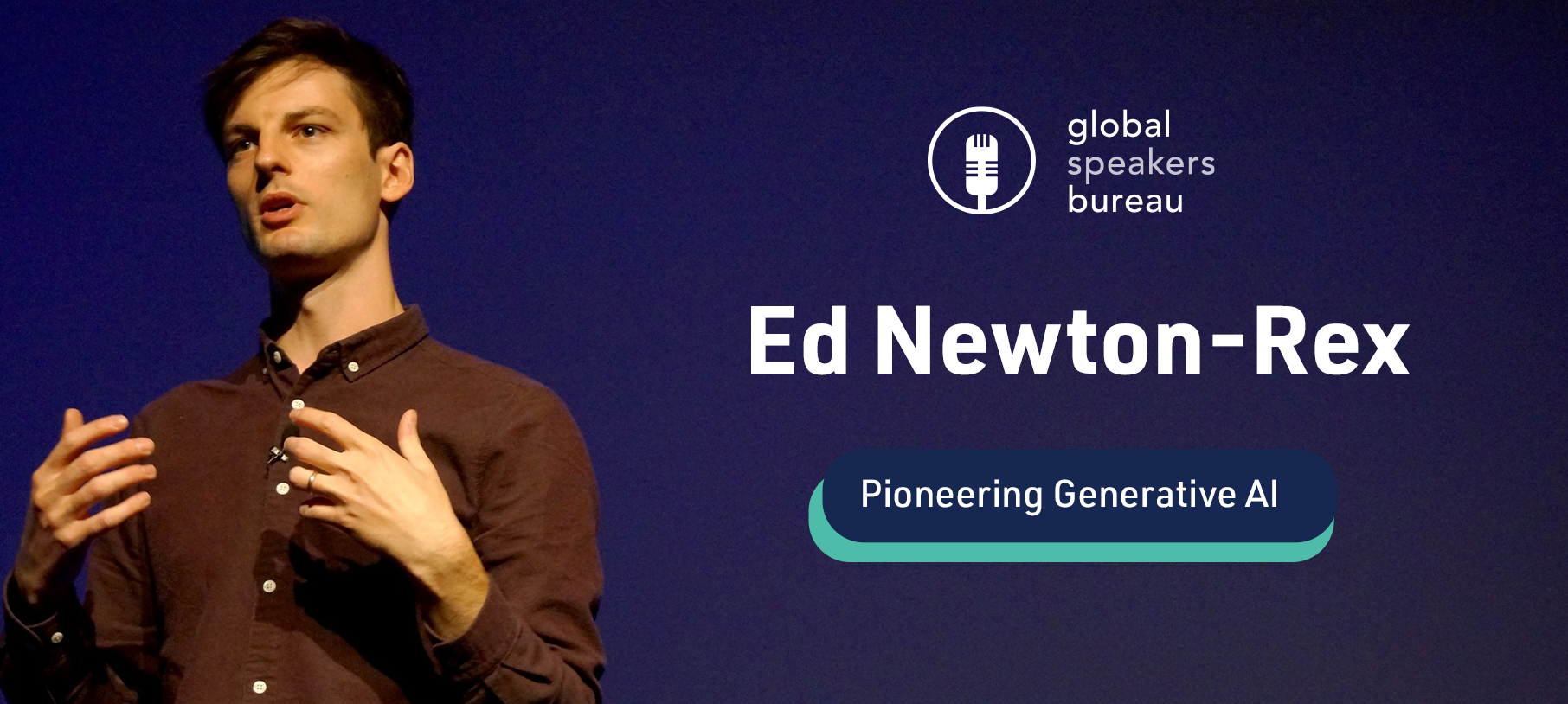 Ed Newton-Rex: Pioneering Generative AI and Shaping the Creative Landscape
Ed Newton-Rex's influence as a leading expert in Generative AI extends far beyond his notable accomplishments as an entrepreneur, musician, and keynote speaker. With a remarkable journey that includes senior roles at social media powerhouses TikTok and Snapchat, Ed has played a pivotal role in shaping the field of AI and its impact on creativity. Currently serving as the VP of Audio at Stability AI, he continues to push the boundaries of Generative AI and its application in various industries. This article explores Ed Newton-Rex's unparalleled expertise as a keynote speaker, remarkable achievements, and his unique perspective on the intersection of AI and creativity. Ed Newton-Rex's journey into the world of AI began in 2010 when he founded Jukedeck, the world's first AI music company. The revolutionary technology developed by Jukedeck enabled the creation of over a million original pieces of music. This groundbreaking achievement not only earned Jukedeck numerous awards, including the prestigious Cannes Innovation Lion but also attracted the attention of ByteDance, the parent company of TikTok. In 2019, ByteDance acquired Jukedeck, further solidifying Ed's reputation as a trailblazer in the realm of Generative AI.
Influencing Social Media Giants


Following the acquisition, Ed Newton-Rex embarked on significant roles at ByteDance and Snapchat, leaving an indelible mark on the AI landscape. At ByteDance, he led the AI music lab, where his expertise contributed to the development of TikTok's world-renowned AI recommendation algorithm. Later, at Snapchat, Ed served as the Chief Product Officer for Voisey, a groundbreaking music creation app that empowered users to easily collaborate on music, leading to record deals for several talented individuals. Today, Ed holds the position of VP of Audio at Stability AI, a billion-dollar Generative AI company known for its flagship product, Stable Diffusion. This open-source image generation technology played a pivotal role in driving the mass adoption of Generative AI. With his extensive background as a professional composer published by Boosey & Hawkes, Ed brings a unique perspective to the impact AI has on the creative industries. His role at Stability AI positions him as a leading competitor to OpenAI and reinforces his influence in the field.

Thought Leadership and Recognition
Ed Newton-Rex's contributions to the tech industry have earned him accolades and recognition. He has been named one of Business Insider's "30 most creative people in UK tech" and recognized as one of Sifted's "20 generative AI 'power players' in Europe." Ed's media appearances, including discussions on AI and creativity on platforms like the BBC, have further solidified his reputation as a thought leader. He has graced the stages of prominent conferences, such as TEDx, Mobile World Congress, and Slush, captivating audiences with his insights into the intersection of AI and creativity. Ed's passion for nurturing talent and supporting the creative community is evident through his involvement as a mentor in the startup program at Abbey Road Studios in London. As a co-organizer and judge of the International AI Song Contest, he actively promotes the integration of AI in music creation. Through his diverse engagements, Ed fosters the growth of aspiring talents and facilitates dialogue on the future of AI in the creative industries.
Extraordinary Keynote Speaker
Ed Newton-Rex's keynote speeches deliver a captivating and immersive experience for those keen to delve into the dynamic intersection of technology and the arts. His presentations are thoughtfully enhanced with engaging audio and visual aids, offering invaluable insights for individuals looking to embrace and thrive at the exciting frontier where AI and creativity converge. Ed's remarkable blend of humor and expertise positions him as a highly sought-after keynote speaker across a range of domains, including Artificial Intelligence, Generative AI, Digital Transformation, and Business. Attendees can expect to be entertained, enlightened, and inspired by Ed's engaging delivery and profound knowledge in these areas.
Ed Newton-Rex's most demanded keynote topics include:
AI and Creativity
AI Music
Artificial Intelligence
Digital Disruption
Entrepreneurship
Generative AI
No matter which topic you choose, you can be sure that Ed Newton-Rex's keynote speech will be inspiring, informative, and entertaining. Watch one of his amazing talks here.

Ed Newton-Rex's journey from founding Jukedeck, the world's first AI music company, to his current position as VP of Audio at Stability AI, solidifies his status as a leading expert and influential figure in the field of Generative AI. His work at TikTok, Snapchat, and now Stability AI exemplifies his commitment to pushing the boundaries of technology and creativity. As a sought-after speaker and mentor, Ed continues to inspire and educate audiences on the transformative power of AI, ultimately shaping the future of the creative landscape.