CATEGORY: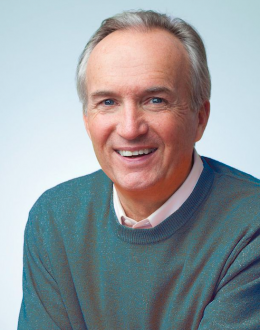 Don Peppers
keynote speaker
Partner Marketing at Peppers and Rogers Group
TOPICS
Competing in the Interactive Age
CRM is Dead - Long Live the Customer
Long-Term Leadership in a Short-Term World
Mass Customisation
One Customer at a Time: The One-to-One Future of Marketing
Optimizing for Success
ABOUT SPEAKER
Recognized for more than 20 years as one of the world's leading authorities on customer-focused business strategies, Don Peppers is an acclaimed author and a founding partner of Peppers & Rogers Group, the world's premier customer-centric management consulting firm.
The Times of London has listed Don among their "Top 50 Business Brains," Accenture has included him in its global list of the "Top 100 Business Intellectuals," and the U.K.'s Chartered Institute for Marketing put him on its list of the "50 most influential thinkers in marketing and business today." In 2013, Don Peppers, along with partner, Martha Rogers, were inducted into the Direct Marketing Association Hall of Fame. And, in 2015, Satmetrix listed Don Peppers and Martha Rogers #1 on their list of Top 25 Customer Experience Leaders.
Don has a popular voice in the worldwide media, and as a top 100 "IN-fluencer" for Linkedin.com he has more than 230,000 followers for his regular blog posts. His thought leadership, keynote presentations, and executive workshops routinely focus on the business issues that today's global enterprises are grappling with, while trying to maintain a competitive edge in their marketplace. These include:
-Building stronger customer relationships, better customer experiences, and trust;
-Stimulating innovative thinking and benefiting from new ideas within a firm;
-Engaging employees in order to create a stronger, more competitive corporate culture;
-Dealing with social media, customer advocacy, and increasing levels of business transparency;
-Balancing long-and short-term financial goals by focusing on customer value; and
-Using scientific reasoning to make better business decisions, based on data.
With co-author Martha Rogers, Ph.D., Peppers has produced a legacy of international best-sellers collectively selling well over a million copies in 18 languages. Peppers' and Rogers' newest book, their ninth together, is Extreme Trust: Honesty as a Competitive Advantage (Penguin 2012). It argues that social networks and rapidly increasing transparency have combined to raise customer expectations regarding the trustworthiness of the companies and organizations they deal with.
Peppers and Rogers are often credited with having launched the CRM revolution with their very first book, The One to One Future: Building Relationships One Customer at a Time (1993). Inc. Magazine's managing editor called this book "one of the two or three most important business books ever  written," while Business Week called it the "bible of the new marketing." And in 2011, the authors released a second, updated edition of their widely used CRM textbook for university use in graduate level courses, Managing Customer Relationships: A Strategic Perspective.
Prior to founding Peppers & Rogers Group, Don served as the CEO of a top-20 direct marketing agency (Perkins/Butler Direct Marketing, a division of Chiat/Day) and his book Life's a Pitch: Then You Buy (1995) chronicles his exploits as a celebrated new-business rainmaker in the advertising industry. Before Madison Avenue, he worked as an economist in the oil industry, and as the director of accounting for a regional airline.
He holds a Bachelor's Degree in astronautical engineering from the U.S. Air Force Academy, and a Master's Degree in public affairs from Princeton University's Woodrow Wilson School. He is a competitive runner and a very happily married father of five.
---
---
CONTACT US
To enquire about a particular speaker(s) for your event please fill in the form below and we will get back to you immediately.