CATEGORY: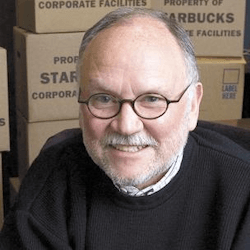 Howard Behar
keynote speaker
Former President of Starbucks
Author "It's not about the Coffee"
TOPICS
Its Not About The Coffee: Leadership Principles from a Life at Starbucks
ABOUT SPEAKER
"People are not 'assets,'" Howard Behar tells us, they are human beings. During his many years as a senior executive at Starbucks, Behar helped establish the Starbucks culture and was an evangelist for recognizing the importance of people over profits. He coached hundreds of leaders at every level and helped the company grow into a world-renowned brand.
Now he reveals the ten principles that guided his leadership and success—and not one of them is about coffee. Howard Behar presents keynotes and leads thought-provoking Q&As; with large and small audiences. Howard is committed to exchanging ideas and creating dialogue around the ways we lead ourselves and others in organizations today.
He also addresses the role personal leadership plays in our individual lives. He speaks to corporate audiences, educational institutions, boards and governance groups, and nonprofit organizations seeking to challenge and inspire themselves.
"A book about how to succeed anywhere-not just in business."
– Former U.S. Senator Bill Bradley "The most down-to-earth, in-the-trenches, straightforward, and utterly useful leadership book I've ever read."
– James A. Autry, author of The Servant Leader "The tips inside are intelligent, heartfelt, tested and honed in reality. Bravo."
– David Allen, author of Getting Things Done
---
---
---
CONTACT US
To enquire about a particular speaker(s) for your event please fill in the form below and we will get back to you immediately.