CATEGORY: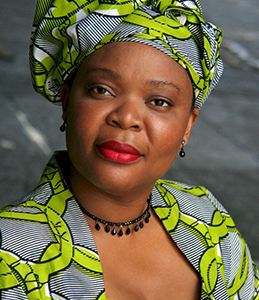 Leymah Gbowee
keynote speaker
2011 Peace Nobel Prize Winner
ABOUT SPEAKER
2011 Nobel Peace Laureate Leymah Gbowee is a Liberian peace activist, trained social worker, public speaker, and women's rights advocate. She is founder and current president of the Gbowee Peace Foundation Africa. She also founded the Liberia Reconciliation Initiative and is co-Founder and former Executive Director of Women Peace and Security Network Africa (WIPSEN-A). Her memoir, Mighty Be Our Powers, chronicles Ms. Gbowee's leadership of the Women of Liberia Mass Action for Peace, which brought together Christian and Muslim women in a nonviolent movement that played a pivotal role in ending Liberia's civil war in 2003. Her work for peace in Liberia is also captured in the documentary that she narrates, Pray the Devil Back to Hell.
She is a founding member and former Liberia Coordinator of Women in Peacebuilding Network/ West Africa Network for Peacebuilding (WIPNET/WANEP) and serves on the board of directors of the Federation of Liberian Youth. She also serves on the board of directors of the Nobel Women's Initiative, the Gbowee Peace Foundation and the PeaceJam Foundation and is a member of the African Women Leaders Network for Reproductive Health and Family Planning.
Ms. Gbowee holds an M.A. in Conflict Transformation from Eastern Mennonite University (Harrisonburg, VA). She has also received honorary Doctor of Laws degrees from Rhodes University in South Africa and the University of Alberta in Canada, as well as an honorary doctorate in Specialty Management and Conflict Resolution from Polytechnic University in Mozambique.
After receiving the Barnard College Medal of Distinction, she was named as a Distinguished Fellow in Social Justice and a Visiting Transnational Fellow at the Center for Research on Women, and Fellow in Residence at the Athena Center for Leadership Studies at Barnard College for the 2013/2014 academic year. Ms. Gbowee is the proud mother of six children.
---
---
---
CONTACT US
To enquire about a particular speaker(s) for your event please fill in the form below and we will get back to you immediately.