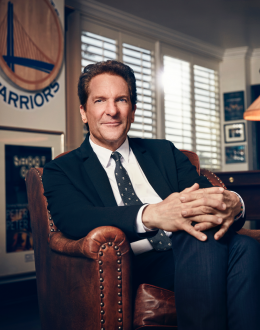 TOP SPEAKER
Peter Guber
keynote speaker
Visionary. Pioneer. Maverick.
TOPICS
Exponential Growth and Business Success
Inciting Creativity as an Organizational Imperative
Surviving Systems of Change
The Power of a Purposeful Story
Thriving in a Culture of Risk
Winning
ABOUT SPEAKER
Peter Guber has spent his entire life blazing his own trail. From movies to music to television to sports, he has seized opportunity and been a pioneer in businesses and industries that are notoriously difficult. A successful executive and entrepreneur in various industries, he has deep strategic and operational experience with universal application.
Peter's diverse career encompasses 40 years of experience that has propelled him to success as an executive, entrepreneur, professional sports team owner, and #1 NYT bestselling author. His extraordinary life has been built on sharing a vision and creating the organization to realize that dream.
In his keynotes, Peter shares lessons he has learned from a life at the highest levels of sports and entertainment – revealing tools and processes that inform and ignite the newest leaders in the business community as they strive to make big things happen.
Peter Guber's career has been fueled by curiosity and personal reinvention. He is Chairman and CEO of Mandalay Entertainment Group. Prior to Mandalay, Peter was Chairman and CEO of Sony Pictures Entertainment, Chairman and CEO of Polygram Entertainment, Owner and Co-Founder of Casablanca Record & Filmworks and President of Columbia Pictures. He produced or executive produced (personally or through his companies) films that garnered five Best Picture Academy Award nominations (winning for Rain Man) and box office hits that include The Color Purple, Midnight Express, Batman, Flashdance, The Kids Are All Right and Soul Surfer.
Peter is operating Owner of the three-time NBA Champion Golden State Warriors, an Owner of the six-time National League West Champion, and two-time National League Champion, Los Angeles Dodgers, and an Owner and Executive Chairman of Major League Soccer's Los Angeles Football Club (LAFC). He is Co-Executive Chairman of aXiomatic, a broad-based esports and gaming company which owns Team Liquid, a premier esports team. Peter is a Regent of the University of California and has been a professor at UCLA for 40 years.
Peter is a noted author with works including Shootout: Surviving Fame and (Mis)Fortune in Hollywood, which became a 7-year television series on AMC which he hosted. He wrote the cover article for the Harvard Business Review titled, The Four Truths of the Storyteller. His most recent business book, Tell To Win – Connect, Persuade, and Triumph with the Hidden Power of Story, became an instant #1 New York Times bestseller.
"The most successful companies and leaders must generate new ideas, unleash the creative talent of their people, move innovative thinking throughout their organization, overcome resistance, and have an accelerated time to market that leaves competitors in the dust." 
- Peter Guber
---
---
---
CONTACT US
To enquire about a particular speaker(s) for your event please fill in the form below and we will get back to you immediately.