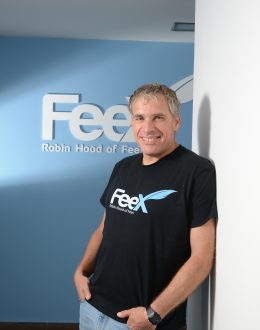 TOP SPEAKER
Uri Levine
keynote speaker
An Entrepreneur & An Entrepreneurs Mentor,
The Founder of Waze, Founder of FeeX and half a dozen startups
TOPICS
Entrepreneurship with passion
Fund Raising
STARTips
Waze Journey
ABOUT SPEAKER
Uri Levine is a passionate serial entrepreneur and mentor to young entrepreneurs. He is the co-founder of Waze, one of the world's largest community-based traffic and navigation apps, which was acquired by Google on June 2013 for the outstanding sum of $1.1 billion.
Levine is co-founder and board member in half a dozen startups. His focus after Waze' exit is on doing good AND doing well, bringing value to consumers, solving real problems in the areas of: drivers and transportation, money thrown to the garbage (sharing economy) and inefficiencies in large markets (a lot of money left on the table).
Levine is co-founder, active chairman and first investor at FeeX (www.feex.com), a startup that helps find and reduce hidden fees on financial services and addresses a problem in the size of $600 billion in the US alone.
He is Chairman and investor at: Zeek, Engie, FairFly, FeeX and board member at Moovit and Roomer.
Uri has been in the high tech business for the last 30 years, half of them in the startup scene, and has seen everything ranging from failure, middle success and extreme success. Thanks to his long and proven experience, Uri is able to deliver highly engaging keynotes to young entrepreneurs and companies and offer them a cookbook, a recipe for success.
Uri has worked in all possible business areas from product development, marketing, business development, running startups and mainly coaching CEO's. Over the last years he has coached and given keynotes to CEO's, entrepreneurs and corporate staff from countries all over the world.
---
---
---
CONTACT US
To enquire about a particular speaker(s) for your event please fill in the form below and we will get back to you immediately.