Trending keynote speakers for your next event
It's no secret that the right keynote speaker adds something special to your event. The best keynote speakers in the industry understand the power of words and the impact their speech might have on the audience. With the right strategy and they can engage the guests of your event and share their knowledge. By using real stories and personal anecdotes and observations, a good speaker gains the trust of the audience, helping them connect to the message on a personal level.
Are you looking for a perfect keynote speaker for your event? You're in a right place. With a bit of help from Global Speaker Bureau, you can organize a special motivational lecture, corporate training, or any other type of event. The wide range of our keynote speakers will allow your audience to find out what a "power speech" is.
Check out the curated list of our most requested keynote speakers and their keynote topics.
To get more information, tap the links below to view each speaker's profile page and learn more about their experience. To get to know each of them better, you can check out videos. These two steps will make it easier for you to choose the perfect speaker for your event!
Kailash Satyarthi is a Nobel Peace Prize Winner
and a real expert on children's rights.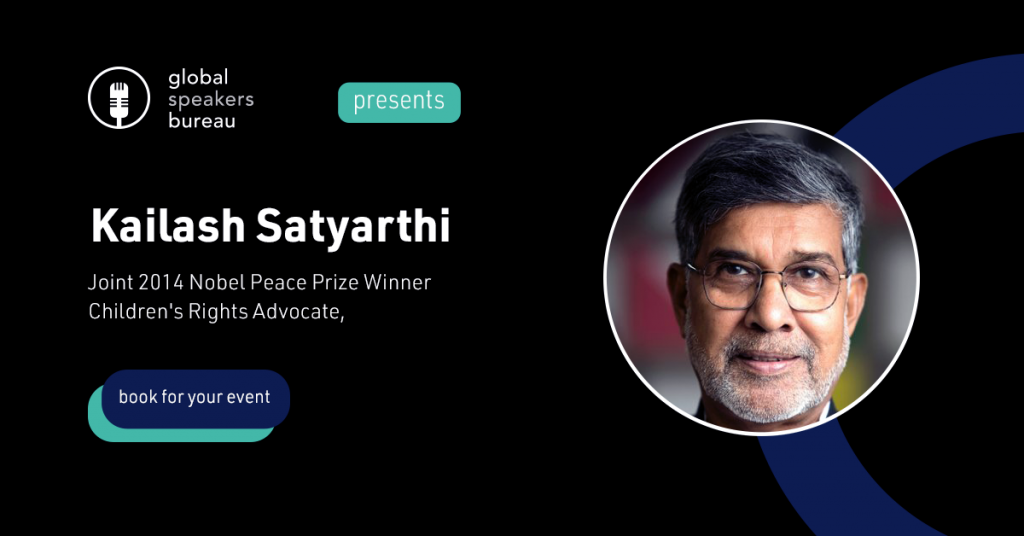 Kailash Satyarthi is a social activist, human rights activist, and children's rights advocate. He has dedicated his life to bringing attention to the severe exploitation of children for financial gain. Kailash Satyarthi is a man known not only for his wise words but most importantly for his noble actions. Kailash Satyarthi founded Save the Childhood Movement (BBA) and the GoodWeave organization. By 2014 alone, he had managed to free 83,000 children from slavery with the help of committed colleagues.
In one of his talks, Satyarthi shared with the audience a surprising piece of advice for anyone who wants to change the world for the better: feel anger at injustice.
Check the list of his keynote topics:
Corporations & Child Labor
Free & Compulsory Education is a Human Right
The Global Movement Against Child Labor
Find out more about Kailash Satyarthi
Erin Drake Kajioka will amaze your audience with her engaging keynote
about game system design and the future of technology.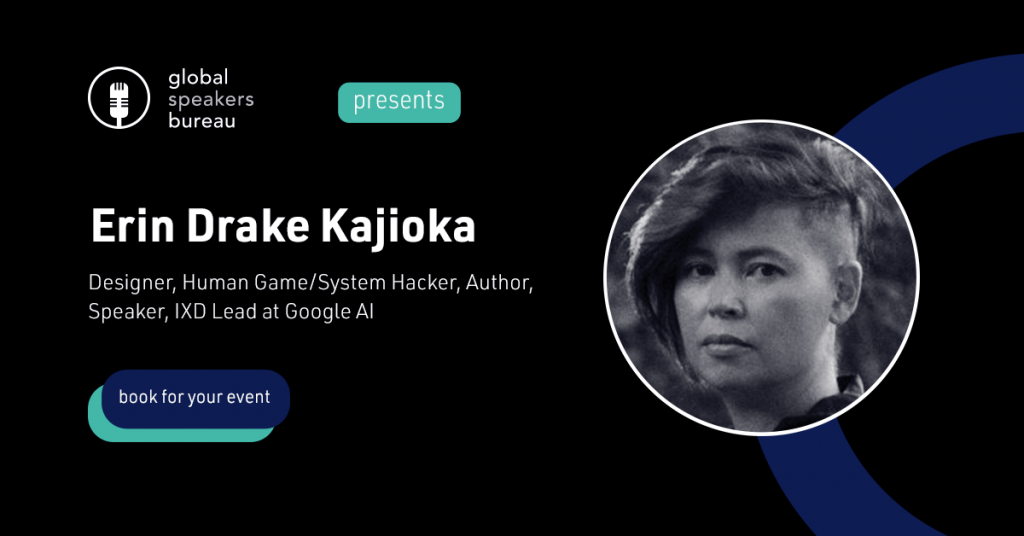 From 2017 to 2020 Erin Drake Kajioka led Google Stadia's research and development lab. Currently, she is the Head of Applied Game Design at Google Research where she founded a new team using game design for data excellence with a focus on trust & safety.
She believes in a future where technology combined with well-designed social systems will enable all human beings to achieve self-actualization. Erin Drake Kajioka is focused on using interactive media to empower people.
Erin Drake Kajioka's keynote topics:
Cultivating Young Designers and Developers
Ethical Monetization
Game Usability
Translating Effective Research into Game Mechanics
Find out more about Erin Drake Kajioka
Aleissia Laidacker is one of technology's greatest evangelists, making
her a captivating keynote speaker at numerous conferences.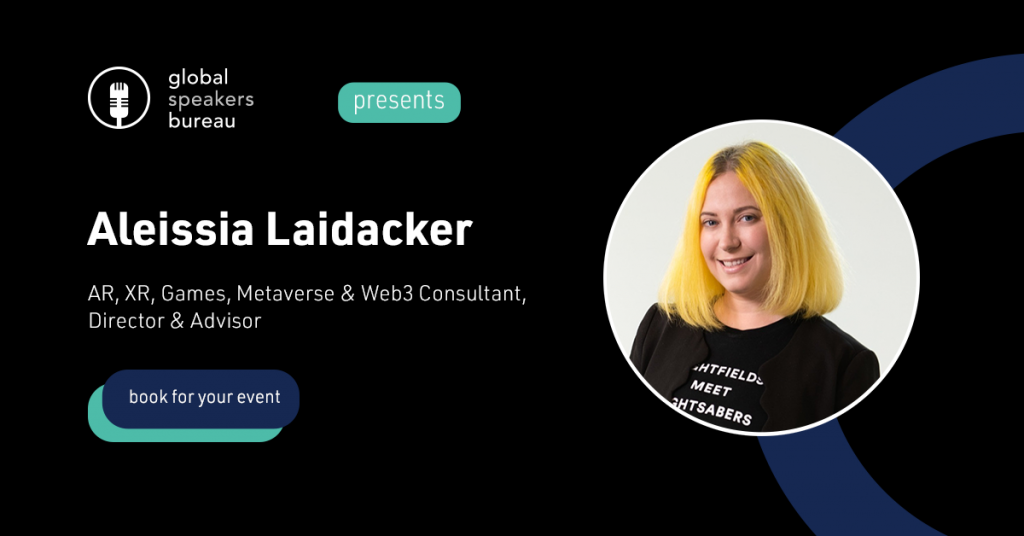 Aleissia Laidacker has over 20 years of experience in product design, artificial intelligence, and game development. She helps companies use new technologies and innovative designs to build exciting products, games, brands, and experiences for The Metaverse.
As a keynote speaker, she often speaks about topics ranging from Augmented Reality and Games. To Ethics in AI, Virtual Beings and Spatial Computing.
Check out some of Aleissia Laidacker's keynote topics:
Artificial Intelligence
Augmented Reality
Immersive Experiences
Mixed Reality
The Metaverse
Video Game Development
Virtual Beings​
Find out more about Aleissia Laidacker
John Elkington is a world-famous authority on corporate responsibility and sustainable capitalism.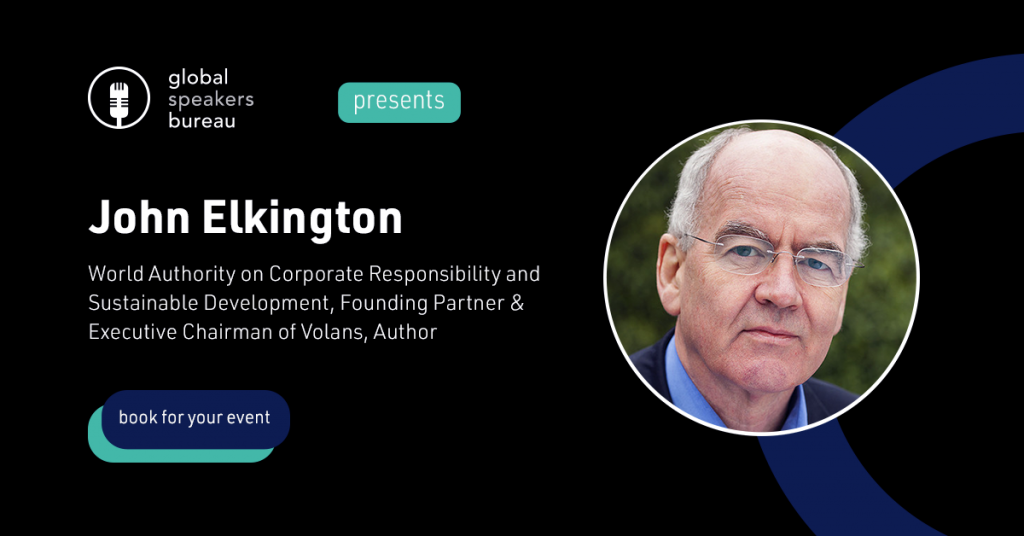 Elkington is the founder and chief pollinator of Volans, a company that works with leaders and helps them unlock the potential of their organization. The Evening Standard names him "a true green business guru", and "an evangelist for corporate social and environmental responsibility long before it was fashionable".
He has spoken at more than 1,000 major conferences and similar events. From large conventions such as the World Economic Forum summits in Davos and Dalian, China, to dynamic board sessions and speeches at universities, business schools, and village halls.
John Elkington's keynote topics:
Climate Change: The Decisive Decade
Energy Efficiency
Green IT
Revolutionary Innovation for Sustainable Development
Understanding Corporate Social Responsibility
Find out more about John Elkington
Watch the video below
John J. Mearsheimer has an extraordinary oratorical talent which he recently proved once again during the Munk Debate on Ukraine.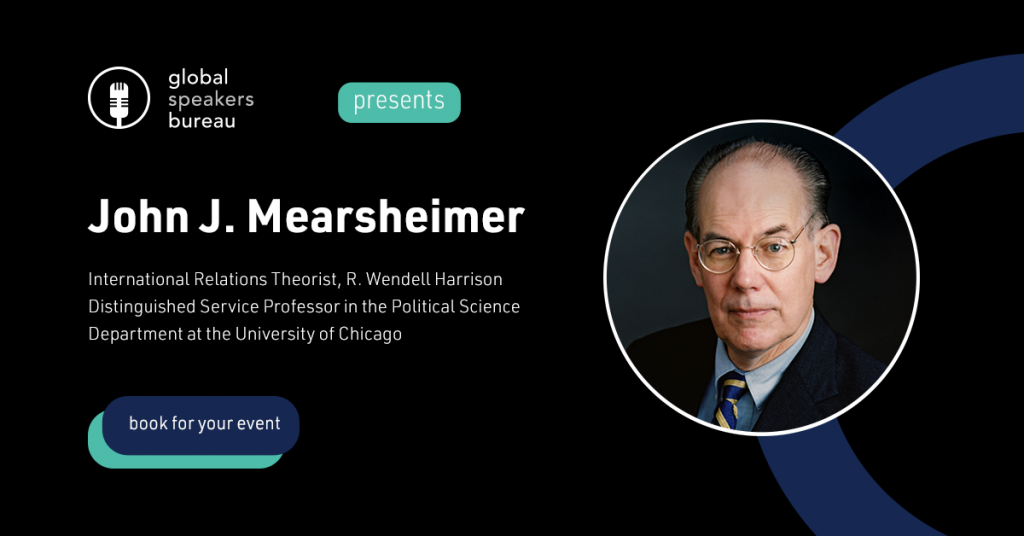 John J. Mearsheimer has dedicated his life to scholarship. He is the R. Wendell Harrison Distinguished Service Professor of Political Science at the University of Chicago, where he has taught since 1982. Mearsheimer always emphasizes that above all else, he is an international relations theorist which means that he believes that the great powers dominate the international system and they constantly engage in security competition.
Be sure to check out his latest publication The Great Delusion: Liberal Ideals and International Realities which is a manifesto on the virtue of moderation in foreign policy.
John J. Mearsheimer's keynote topics:
Great Power Politics
The Rise of China
U.S. Foreign Policy
Ukraine War
Find out more about John J. Mearsheimer
Chris Roberts is one of the most requested keynote speakers on cybersecurity, counter-threat intelligence, and vulnerability research!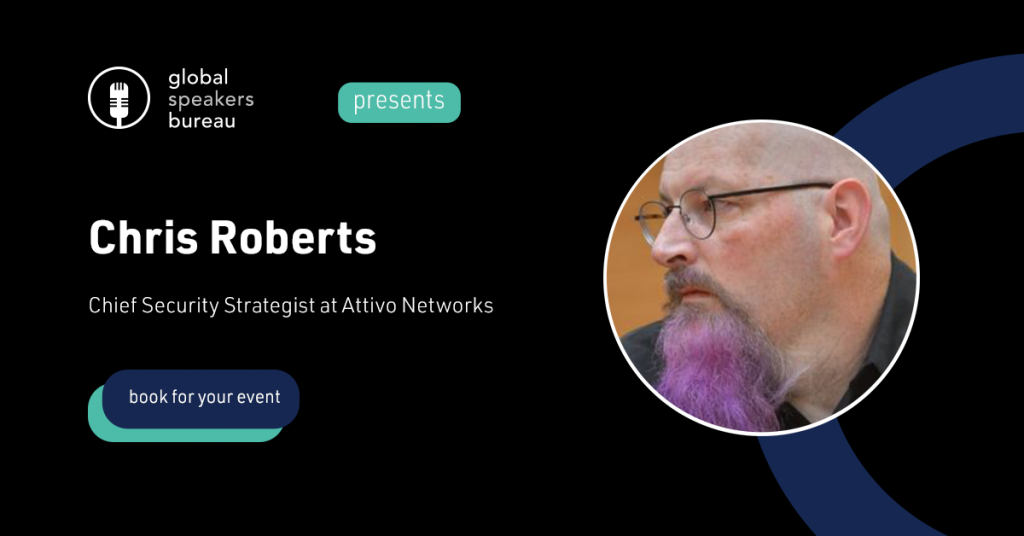 Chris Roberts has worked with and founded multiple companies specializing in DarkNet research, intelligence gathering, cryptography, deception technologies, and providers of security services and threat intelligence. With a wealth of knowledge, even more experience, and a great sense of humor, Chris Roberts is the perfect keynote speaker. His speeches are not only rich in content but also captivating and exciting!
His keynote topics:
Counter Threat Intelligence
DarkNet
Deception Technologies
Intelligence Gathering
The tsunami of Technology in the Next 5 Years
Find out more about Chris Roberts
Make sure to follow our social media channels