Industry 4.0 with Keynote Speaker Henrik von Scheel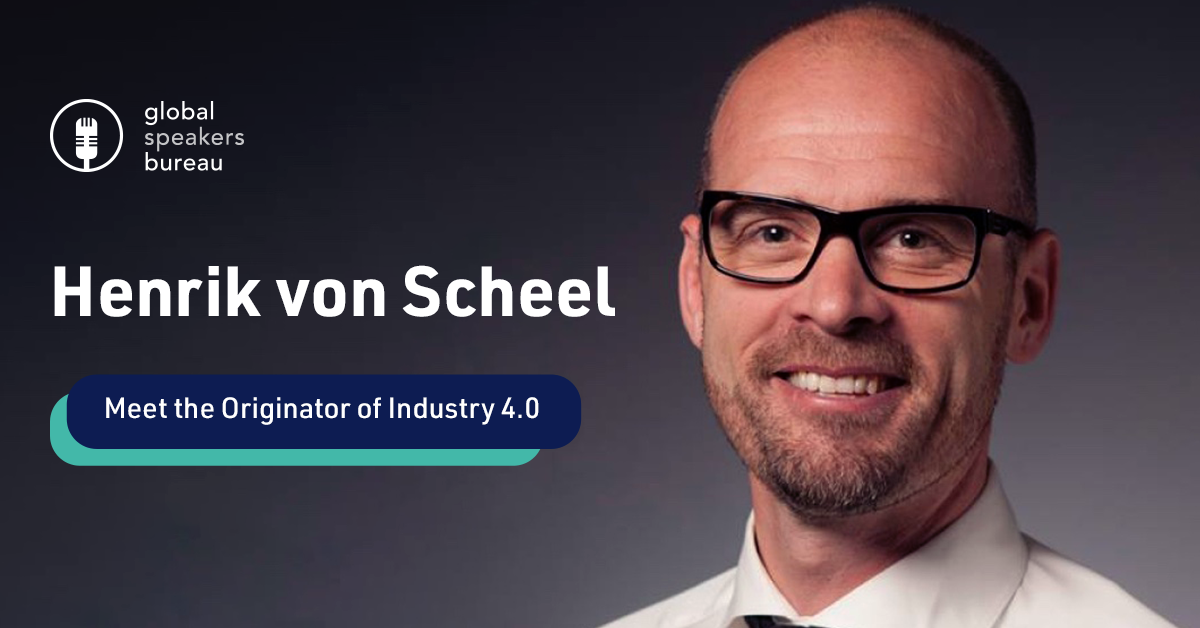 Meet the Originator of Industry 4.0: Keynote Speaker Henrik von Scheel
In recent years, Industry 4.0 has become a buzzword in the business world. But who exactly is behind this revolutionary concept? Meet Henrik von Scheel, a renowned keynote speaker who is widely considered to be the originator of Industry 4.0.
Industry 4.0 refers to the fourth industrial revolution, characterized by integrating advanced technologies such as artificial intelligence, the Internet of Things, and robotics into manufacturing and other industries. This integration is leading to a smarter, more efficient, and more connected way of doing business.
Business, futurism, and innovation keynote speaker
Henrik von Scheel is a visionary speaker and consultant who has been leading the charge in the development and implementation of Industry 4.0. He has extensive experience in the fields of technology and innovation and is recognized as a thought leader in the industry. He has advised a wide range of organizations, from multinational corporations to start-ups, on how to embrace the opportunities and overcome the challenges of Industry 4.0.
As a member of the Advisory Council of the Federal Minister of Economy & Technology, Henrik von Scheel played a crucial role in defining Germany's future digital strategy in 2009. The "Digital Agenda" was adopted by the European Commission in 2010 as part of the Europe 2020 strategy and has evolved into the European Digital Revolution. This "Digital Agenda" is responsible for 5% of the GDP with a market value of €660 billion annually.
His contributions to the world of technology and innovation have earned him numerous accolades, including being named the "leading authority on strategy" and being recognized as "the most influential management thinker of our times" by Sheikh Mohammed bin Rashid Al Maktoum, the ruler of Dubai. He was also awarded the prestigious Knowledge Award, which is considered the Nobel Prize for knowledge sharing.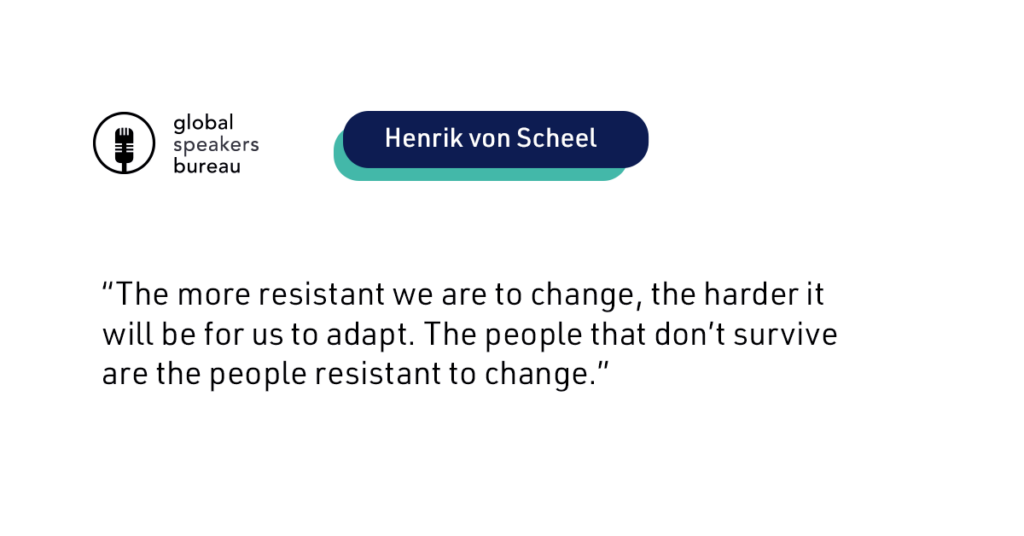 Henrik von Scheel's keynote topics
In his keynote talks, Henrik von Scheel delivers a powerful message about the importance of Industry 4.0 and the role that it will play in shaping the future of business. He provides insights into the latest trends and technologies in the field and explains how organizations can leverage these developments to improve their competitiveness and create new business opportunities.
One of the key takeaways from Henrik von Scheel's speeches is the need for organizations to embrace a culture of innovation. In his view, innovation is the key to success in an ever-changing and rapidly evolving business landscape. He emphasizes the importance of taking calculated risks and experimenting with new ideas and provides practical tips on how organizations can foster a culture of innovation.
Top 4 Topics for Henrik von Scheel's Keynote Speaking Engagements
Some of Henrik von Scheel's most popular keynote topics: Bio-Revolution, Fourth Industrial Revolution, Humanity 4.0 at a Crossroad, Nuts and Bolts of DigitalizationHenrik von Scheel is not just a speaker; he is a true advocate of Industry 4.0 and the positive impact that it can have on the world. He is passionate about sharing his insights and experiences with audiences and helping them to understand the transformative potential of this revolutionary concept.
In conclusion, if you are looking for a speaker who can provide a fresh perspective on Industry 4.0 and inspire your audience to embrace this exciting new chapter in the world of business, look no further than Henrik von Scheel. He is an engaging and thought-provoking speaker who has the expertise and experience to help organizations thrive in the age of Industry 4.0.
Top 4 Topics for Henrik von Scheel's Keynote Speaking Engagements
Global Speakers Bureau is pleased to announce our partnership with Henrik von Scheel, an exceptional keynote speaker who is highly esteemed and passionate about his topics. With dedicated effort, he shares his expertise and experience to make your event an outstanding gathering.
Booking Henrik von Scheel for your next event will take you only a few minutes. Please fill out the form, and we will respond immediately to discuss your expectations for the meeting. We will provide guidance and support throughout the process to arrange everything, ensuring an unforgettable event.