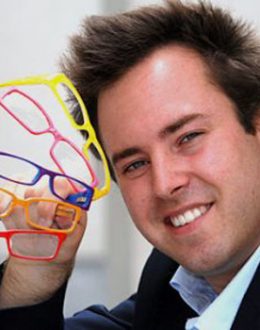 TOP SPEAKER
Jamie Murray Wells
keynote speaker
Founder of Glasses DirectIndustry, Head of Retail at Google UK
TOPICS
Angel investing in emerging businesses and entrepreneurs
Entrepreneurism
Funding & Investing
Online Sales and Marketing
ABOUT SPEAKER
Successful entrepreneur and founder  of Glasses Direct which he started from University, Jamie Murray Wells has taken the optical industry by storm. Jamie started Glasses Direct from the living room of his parents' home in Wiltshire while studying for his University finals. Six years later, and without any formal business training, Jamie had grown the company to be the largest direct retailer of custom made prescription glasses in the world.
Jamie's success was based on challenging an industry where high street opticians charge £150 per pair of glasses and offering the same products for £15 on the web. Despite early threats of legal action and pressure from suppliers of high street brands, Glasses Direct became fully established in the optical market place.
From the beginning, Wells directly managed the development of in-house software to handle the back-end processing and logistics of both a bespoke physical product and consumer front-end web product. Glasses Direct was a path-finder in retail innovation launching world-first products such as CustomEyes (2005), the first commercialised virtual try-on software, and their 4 pair free Home Trial box (2006). In February 2010, Jamie launched Hearing Direct , a mirror of the Glasses Direct business model. Targeted at the 8 million people in the UK who suffer from hearing loss, customers complete a short online questionnaire before choosing a digital hearing aid for a fraction of the cost of high street retailers. During the business's growth phase, Wells oversaw the acquisition of SunglassesShop.com in 2010 extending the product line into sunglasses, and LensOn.com in 2012 taking it into contact lens retail.
In 2013, the business was sold and Wells joined Google UK where he is currently Industry Head of Retail.
Outside of business, Wells served as an advisor to the then Shadow Chancellor George Osborne on his New Enterprise Council from 2007 to 2010, going on to co-found StartUp Britain, a campaigning initiative announced in the Chancellor's 2011 budget speech. He helped create and manage this organisation, incubating it at No.10 and launching it with the Prime Minister to promote UK entrepreneurship. He has established himself as a national expert on emerging small enterprise in the UK.  He has appeared on BBC News 24, Radio 5 Live, Tonight and GMTV.
In 2009 he was named in the Queen's birthday Honours list as receiving Queen's Award for Enterprise Promotion. In 2015, he was appointed Officer of the Order of the British Empire (OBE). Other awards to his name include the UK Shell Livewire Young Entrepreneur of the Year, Wales and West Country Entrepreneur of the Year Award, NatWest Entrepreneur of the Year Award and Daily Mail Enterprising Young Brit.
---
---
CONTACT US
To enquire about a particular speaker(s) for your event please fill in the form below and we will get back to you immediately.