CATEGORY: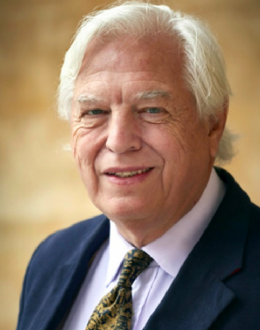 John Simpson
keynote speaker
BBC Foreign Affairs Editor
TOPICS
Current Affiars
Global Trouble Spots
World Affairs
World Politics
ABOUT SPEAKER
John Simpson is the BBC's World Affairs Editor, the senior member of a team of London-based foreign and specialist correspondents.
Simpson is one of the BBC's most distinguished journalists and has worked for the corporation since he was 25, joining as a sub-editor in the radio newsroom. In a BBC career spanning more than 30 years, John has earned a reputation as one of the world's most experienced and authoritative journalists. John Simpson has reported from more than 100 countries across the globe, from 30 war zones, and has interviewed numerous world leaders.
His most demanding major assignment was reporting from Afghanistan during the fall of Kabul. He was being smuggled into Afghanistan, disguised as a woman in a burqa.He also reported from Belgrade during the Kosovo crisis of 1999. He was one of only a handful of journalists to remain in the Serbian capital when the authorities expelled those from NATO countries at the start of the conflict."As everyone else was pulling out I decided I would just stay put and see what happened," he said. For the next 12 weeks he filed reports every day and often round-the-clock for all BBC outlets, and was the first BBC journalist in a war zone to answer questions from internet users via BBC News Online.
In April 2000, John Simpson was named Royal Television Society Journalist of the Year for his reporting of the conflict.In a career which makes visiting trouble spots a way of life, John says he rarely fears for his safety – even when a Palestinian soldier ordered him to kneel in the road and held a gun to his head. Other close shaves include being shelled in Afghanistan, attacked with poisonous gas in the Gulf and dodging the bullets in Tiananmen Square.
John Simpson was appointed World Affairs Editor in 1988 following periods as Diplomatic Editor and presenter of the Nine O'Clock News.Before that he worked as a correspondent in South Africa, Brussels and Dublin.
John also presents the current and political affairs programme, Simpson's World, which is broadcast on both BBC World and BBC News 24. Seen in 200 countries, Simpson's World has interviewed more than 100 people in over 40 countries.Between 1990 and 1996 he was associate editor of The Spectator.
Since 1996 he has written a foreign affairs column for The Sunday Telegraph.
His books include an autobiographical trilogy: Strange Places, Questionable People (1998); A Mad World, My Masters (2000); News From No Man's Land (2002); The War Against Saddam: Taking the Hard Road to Baghdad (2004); Days from a Different World: A Momoir of Childhood (2005); Not quite World's End: A Traveller's Tales (2007); Twenty Tales From The War Zone (20070 and Unreliable Sources (2010).
John Simpson received a CBE in the Gulf War Honours (1991), and is one of only two people to have been twice named the Royal Television Society's Journalist of the Year (1991 and 2000).
Among his other awards have been three BAFTAs, a Golden Nymph award for his reporting of Ayatollah Khomeini's return to Iran (1979), a Peabody Trust award for news (1999), a special jury's award at the Bayeux War Correspondents Awards (2002) and most recently an International Emmy award for News Coverage for his report on the fall of Kabul for BBC ONE's Ten O'Clock News. In June 2011 he was made a Freeman of the City of London. John Simpson was honoured by the City of Westminster at a Marylebone tree planting ceremony in May 2012.
---
---
CONTACT US
To enquire about a particular speaker(s) for your event please fill in the form below and we will get back to you immediately.