TOP SPEAKERS
Top Virtual Keynotes
Our clients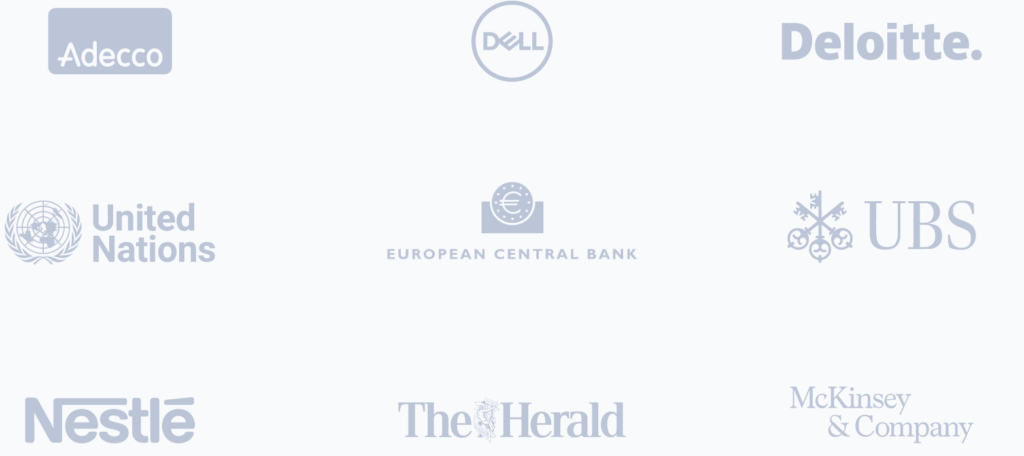 Testimonials
Always very quick to respond and offer excellent speakers.
Client /
RELX Group plc
First class.
Speaker / World Authority on Corporate Responsibility and Sustainable Development, Founding Partner & Executive Chairman of
Volans
GSB performance was excellent, they are extremely helpful and organized, taking the planning burden away from the team.
Client / Strategy Associate,
Factor Law Inc
I can only thank Global Speakers Bureau for the experience. We have already worked with three speakers, and the service provided was of great excellence. The team is very professional, generous and always ready to help, understanding the needs of the client. We will definitely work together again in the future.
Client / Analista de Prospecção Acadêmica,
GRUPO A EDUCAÇÃO S.A.
GSB handled the whole engagement with great professionalism and efficiency. They were particularly helpful in ensuring that the end client was very satisfied, and at the same time my requirements were respected as a speaker. Thanks to their help I was able to deliver an excellent talk to a very engaged audience. Thanks again!
Speaker / Co-Founder of
Shazam
Global Speakers Bureau is an agency that one can absolutely trust in terms of delivering contracted services, but also its effort to resolve unexpected mishap that may happen throughout the contract. We are very satisfied with GSB's performance every time we orchestrate speaker-needed events.
Client / Contact Manager,
ChosunBiz
Excellent. Though there were some logistics issues on day 1, GSB managed to address them fully, and beyond.
Speaker / Co-founder and President of
Grand Paris Alliance for Metropolitan Development
GSB was phenomenonal to work with from the start. Tony is extremely professional and even with timezone challenges able to get answers quickly on all questions we have. GSB has a good database of speakers and their internal team is great with the logistics and follow through before, during and after the event.
Client /
Nestlè
Shirli was very good in communication and responded fast to my inquiries. Very happy with the service in every sense. GSB always responded fast and was always very polite. Excellent work!
Client / Content Strategist,
Blood Comunicações e Eventos Ltda
GSB IN NUMBERS
Our experience spans the globe. A decade of expertise and the high number of requests we receive from the market encourage us to continue growing and invest in our development.
CONTACT US
To enquire about a particular speaker(s) for your event please fill in the form below and we will get back to you immediately.