CATEGORY: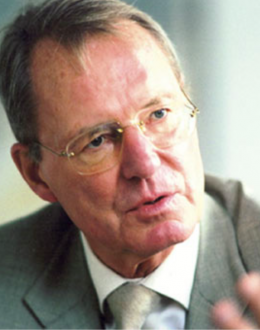 Hans-Olaf Henkel
keynote speaker
Former Chairman of IBM Germany
TOPICS
Germanys Position in Global Markets
Globalisation - A Challenge for the Economy
Industry and the Euro
Reality and Visions, Europes
The Competitive Society
The Ethics of Success
The Future of Europe: Integration and Mobility
The Opportunities of Free Markets
The Power of Renewal
ABOUT SPEAKER
Hans-Olaf Henkel is a German manager and political publicist. He is a Member of the European Parliament. He was a manager at IBM, President of the Bundesverband der Deutschen Industrie and President of the Leibniz Association. In 2014 he joined the Alternative for Germany to be candidate for the European Parliament election, 2014.
He joined IBM Germany in 1962, after completing a commercial apprenticeship and his studies at the University for Economic and Politics in Hamburg. He was appointed President of IBM Germany in January 1987 and Chairman and Chief Executive Officer of IBM Europe, Middle East and Africa in 1993. He was President of the Federation of German Industries (BDI) from 1995 to 2000. He was President of the Leibniz Association from 2001 to 2005 with its 80 state-funded research institutions.
He is on the advisory board of OMFIF where he is regularly involved in meetings regarding the financial and monetary system.
---
---
CONTACT US
To enquire about a particular speaker(s) for your event please fill in the form below and we will get back to you immediately.